Product Description
Eight fully adjustable compartments provide custom fit with maintenance free air cells.

Newly designed Comfort Cells are softer and quieter, allowing the user to immerse into the cushion more than ever before.

PLEASE NOTE UPCHARGE OF $47 FOR SIZES 22" and 24".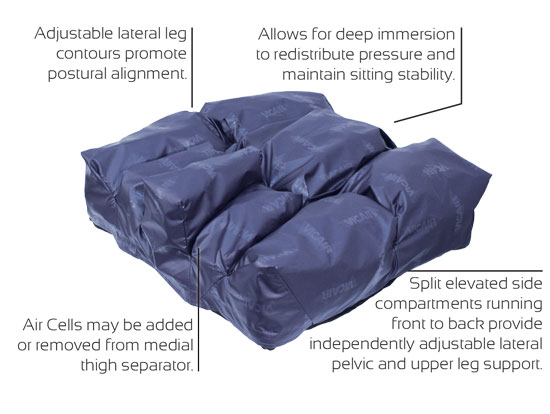 PATENTED VICAIR TECHNOLOGY
Add or remove 'Comfort Cells' as needed to customize the cushion to fit each person's individual needs. Newly designed comfort cells are softer and quieter. This gives the cushion a softer feel and allows the user to immerse into the cushion more.
The First Cushion Cover to Provide Shear Reduction

This new cover technology is for healing and reducing the risk of Decubitus Ulcers by the use of a
Shear Reduction Zone
. This new zone is made from an ultra-slick and extremely breathable material. It is shaped and located to work only in the very specific and high risk region (for most users) located under their bony prominences.
This extremely low friction zone drastically eliminates the daily stresses seen on soft tissue, reducing the probability of break down from the effects of shear typically found under those weight bearing bony prominences The ultimate key to this technology's success is not only having an extremely
Low Friction Zone
, but also having
High Friction Zones
to help keep the user positioned throughout the day. Having the
High Friction Zone
through the Gluteal section of the cushion, as well as across the under sides of the thighs eliminates the risk of a patient's pelvic position "slipping" into that of a sacral seated position.
This new cover has high-stretch characteristics, breathability, and provides great heat dissipation. The GlideWear technology option may be embedded into both core cover materials found at the Comfort Company, Stretch-Air and Comfort-Tek.
Why GlideWear?
Shear Reduction Zone
Specifically designed to reduce the risk of Decubitus Ulcer formation and also promotes the healing process of existing problem areas.
Reduces the risks of Decubitus Ulcers forming underneath the weight bearing bony prominences by greatly reducing the effects of shear forces, a known contributor to the breakdown of tissue.
In conjunction with a very low peak and average pressure readings on a cushion, the GlideWear shear reduction panel acts as a great secondary approach to ulcer prevention.
Micro-Climate Control
The GlideWear shear reduction panel is made with a 100% breathable material allowing for micro-climate control at the cushion surface.
Improved Comfort
Reduction of shear forces allows for a more comfortable seating surface for the user.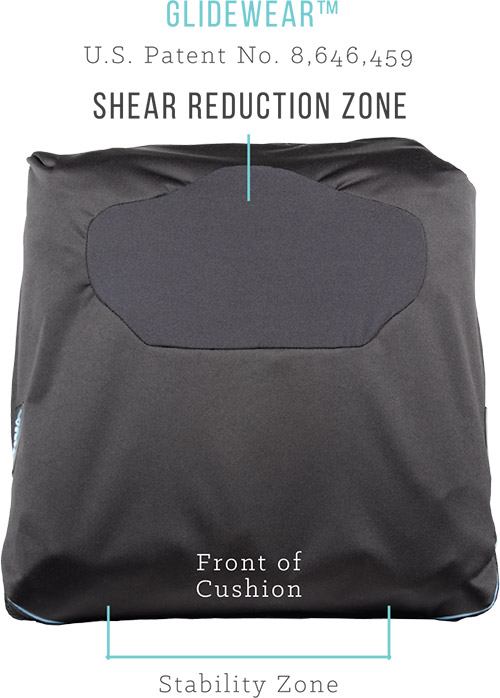 Find Similar Products by Category
Customers Who Viewed This Product Also Viewed